A History of Europe
Chapter 2: CLASSICAL GREECE, PART I
1000 to 197 B.C.



This chapter is divided into two parts, which cover the following topics:

Part I


Part II


| | |
| --- | --- |
| | The Peloponnesian War |
| | Spartan and Theban Ascendancy |
| | Philip of Macedon |
| | Alexander's Empire Up For Grabs |
| | Hellenistic Devolution |
| | Pre-Classical Greek Religion |
| | The Early Philosophers |
| | The Sophists and Socrates |
| | Plato and Aristotle |
| | Other Developments in Greek Philosophy |

What Made Classical Greece So Special?

According to Herodotus, early in his reign King Croesus of Lydia had an important visitor--Solon, the former ruler and lawgiver of Athens, who was famous for his wisdom. Croesus entertained him in his palace for three or four days, and took him on a tour of the royal treasuries. After showing him all his wealth and magnificence, the king asked Solon a loaded question: Whom did he think was the happiest man he had ever met? Solon didn't flatter, and honestly answered, "Tellus of Athens."

Who was this Tellus? Croesus had never heard of him, so Solon explained. Tellus was a well-to-do gentleman, though not a millionaire, who prospered because his city prospered. He had sons anyone would be proud of, all of them lived to grow up, and he got to see his grandchildren. One day Athens went to war against neighboring Eleusis, and Tellus went with the army, instead of excusing himself because of his age. He died in battle, was given a public funeral right on the spot where he fell, and is now remembered as a hero.

Croesus wasn't happy with this answer, so next he asked Solon whom he thought was the second happiest man who ever lived. Unfortunately, Croesus did not come in second place, either. This time Solon picked two brothers from the city-state of Argos, Cleobis and Biton. They were strong youths who had become famous for winning athletic contests. When their mother needed to attend a festival of the goddess Hera in Argos, the family oxen could not be found to pull her cart, so Cleobis and Biton cheerfully put on the yoke and pulled the cart with Mom in it by themselves, a distance of more than five miles. Upon reaching Hera's temple the brothers collapsed in exhaustion, and never woke up. The people of Argos thought the gods had blessed the youths, by letting them die while performing a good deed, so they made two statues in honor of Cleobis and Biton and sent them to Apollo's shrine at Delphi; by a stroke of luck, those statues still exist today (see below).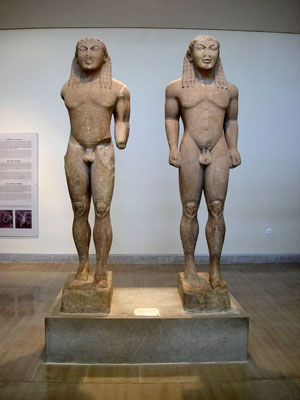 What Solon was trying to say was that nobody knows for sure if a person's life has been happy until it is over. Croesus found this out the hard way several years later, when he lost his fortune and his kingdom to the Persians. Solon's stories, though he did not say it, also reflected the Greek attitude; he thought that being an ordinary citizen in a prosperous Greek city-state was better than being the world's richest king.(1)
The ancient Greek civilization was the most influential the world has ever known. Many aspects of it--its art, its philosophy, its drama, its educational system, and its values--are prominent in our culture, visible to anyone who cares to look. Many books have been written on just one part of Greek civilization, and the typical public library will have at least a whole shelf devoted to these books. So much emphasis has been placed on the Greeks in college courses that one could believe world history started with Greece. The Greek statesman Pericles had it right when he declared that, "Future ages will wonder at us, as the present age wonders at us now."(2) We credit the Greeks with so much that it seems western civilization had an overachiever for a father!
Why all the emphasis on the Greeks? It is because the Greeks were the first people in ancient times who thought and acted much like us. True sons of Japheth, they displayed a keen intellectual curiosity, which led to speculation on almost every subject. They also had a strong individualistic spirit, and would not accept any law, rule or fact just because somebody "said so." Those two characteristics paved the way for the Greeks to depart from the patterns of all those that preceded them. Finally, they were the first people on record who saw humanity in a positive light. Whereas the Bible teaches us that man has fallen and can only recover with God's grace, and most of the world's mythologies claimed that man was created to serve the gods, the Greeks thought that man left on his own was generally good, and that under the right circumstances he could rise to challenge the gods. In the 1990s, when an exhibition of Greek art from the fourth century B.C. toured the United States, the New York Times Book Review explained the Greek appeal this way:

"For thousands of years older civilizations--Persian, Egyptian, Assyrian, Babylonian--thought of man as a despised figure who groveled before deities and despots. Then the Greeks picked man up and set him on his feet. They taught him to be proud. 'The world is full of wonders,' sang Sophocles, 'but nothing is more wonderful than man.'
They persuaded him, as Pericles put it, that he was 'the rightful lord and owner of his person,' and formulated laws to safeguard this personal freedom. They encouraged man's curiosity about himself and his world, holding with Socrates that 'a life without inquiry is not worth living.' They believed in excellence in all things and left a legacy of beauty that ranged from the Parthenon and the Hellenic sculptures . . . the dramas of Aeschylus, Sophocles and Euripides . . . the poetry of Hesiod and Homer . . . to the painted pottery of the simplest household.
Without the ancient Greeks, we might never even have conceived of self-government. But still more important than our language, our laws, our logic . . . our standards of truth and beauty . . . we owe to them a deep sense of the dignity of man. From them, we learned to aspire without limit, to be, as Aristotle suggested, 'immortal as far as we can.'"

The Archaic Period

The geography of Greece is the most complicated of any country in the world. The land is rugged, with many mountains running through the interior, making road-building, transportation and communication very difficult. The Greek coast has peninsulas jutting out all over the place, and there are also hundreds of offshore islands. The result is an ideal situation for people with boats; no place in Greece is more than eighty miles from the sea, and no spot in the Aegean is more than 40 miles from land. At one point, the isthmus of Corinth, only two miles of land separates the Ionian and Aegean Seas; sailors in ancient times used to cross that isthmus by greasing their ships and dragging them overland, on a short causeway which ran between the seas.(3) Unlike the great valley civilizations of Egypt and Mesopotamia, there was no river system to tie the Greeks together. The closest entity to this is the Aegean Sea. Because of the limitations on land travel, and because the land has notoriously lousy soil (it doesn't grow much besides olives and grapes), the Greeks were easily motivated to look to the sea for food, transportation and livelihood. They also were chronically disunited, rarely forming any nation larger than the polis (city-state)(4), and the divisions imposed by geography encouraged the extreme individualism so many Greeks cherished.
Unlike the Near Eastern monarchies, a god-king did not govern the polis, nor were the thoughts and activities of its citizens limited by powerful priesthoods. Many Greeks, especially the Athenians, were fond of good talk and relished debate and argument. As late as the first century A.D., the Apostle Paul was welcomed by the Athenians because they "liked to spend all their time telling and listening to the latest new thing." (Acts 17:21)
Although the Greeks were unusually independent, several factors kept them united culturally. The writings of Homer established a common list of gods for all Greece. They had a common language. The intense trading from community to community reduced isolation and so contributed to a more homogenous society. Finally, threats from foreign empires forced the Greeks to act together.
As noted in Chapter 1, a dark age followed the destruction of the Mycenaean cities, although the precise cause of Mycenaean decline is unknown. The Dorians, themselves a Greek people, migrated from somewhere in the north (Macedonia?), took possession of much of the Peloponnesus, and though some Mycenaean sites lingered on for a considerable period (i.e., Athens), civilization as a whole was swept away and population decreased. Writing disappeared, perhaps because it was mainly used by governments which no longer existed. Many Mycenaeans fled from Greece to the coast of Anatolia, which they called Ionia. These refugees took with them a recollection of their traditions, which crystallized into epic poetry like that of Homer.
A new aristocratic social structure, less rigid than the Mycenaean, began to take root--in both Ionia and Greece itself. The Dorians lived in tribal communities, led by a hereditary king who commanded in war and served as chief priest. The king heeded the advice of a council of elders, who came from the warrior class; hunting and war were the main business of life. Non-Dorian Greeks lived a similar existence.(5)
Curiously, technology can advance without civilization or literacy. At the time of the Dorian invasion, iron was known, but the iron tools and weapons produced were not very good. During the next few centuries, though, the first blacksmiths appeared, and through commerce with Asia, or simple trial & error, they perfected the techniques of ironmongery. Iron spears and swords replaced bronze ones, though bronze armor remained the norm for the rest of ancient Greece's history. The largest source of iron in Greece was in the southeastern corner of the Peloponnesus, near the city of Sparta, which may give us the economic reason behind Sparta's rise to supremacy over southern Greece in the eighth and seventh centuries B.C.
While working with iron, the Dorians also abandoned their cavalry in favor of a new tactical formation, the phalanx. Members of the phalanx, known as hoplites, wore the heaviest armor available (up to seventy pounds!), and assembled to form a rectangle, eight ranks deep and as much as two hundred men wide; they trained themselves to keep their spears and shields facing forward while they ran and charged in unison. A skillful charge by such a mass of men had an awesome impact, which swept just about any other military force off the field. Apparently the Spartans were the first to try it, but it took them a while to perfect their moves without tripping, knocking over or stabbing each other; they fought a twenty-year war with a rival to the west, Messenia, before conquering it (735-715 B.C.).
Once the Spartans got their phalanx working right, every other city-state in Greece had to have one too. This had a revolutionary impact on Greek society, as William McNeil explained:

"The introduction of the phalanx had still another pervasive and profound influence. Every young man who could afford to buy the necessary armor and weapons spent long hours with his fellow youths practicing the rhythms and skills needed to fight effectively in the phalanx. Speed, strength and courage were only part of what was required. In addition every man had to learn to keep time to the beat set up by the war chant, so that the wall of shields would not break when the phalanx charged across the field of battle. Every man's safety depended on his neighbor keeping his place in the ranks, for each man's shield helped to cover the right side of the man next to him. Conspicuous personal feats of arms were as much out of place in such a situation as cowardice or inability to keep pace with the rhythm of the charge, for anything that broke the line threatened immediate disaster."(6)

As in other armies, training and fighting together produced a strong sense of camaraderie; call it male bonding if you wish. Within the phalanx, everyone was equal, and everybody had to do his share to make the whole thing work. The mentality and solidarity required by the phalanx carried over into politics, promoting both a sense of civic responsibility and the equality of men.
The Ionian refugees from Greece remained on the coast and organized themselves into cities before the Dorians did, probably to defend themselves from the adjacent Near Eastern empires (Hittites, Phrygians and Lydians), though there was considerable cultural interchange between Greek and Asian. These walled cities evolved into new city-states. The whole city, with its citadel, central shrine, hearth and sacred fire, and marketplace (agora), replaced the palace as the center of government for both town and country. One's city, rather than one's language or race, determined one's political identity. A similar process occurred in Greece itself, though in some areas, such as Arcadia in the center of the Peloponnesus, village life continued; in other areas the most successful cities annexed the surrounding land. Thus Athens and Sparta absorbed Attica and Laconia (Lacedaemonia), respectively.
From an early date Greeks on both sides of the Aegean patronized common shrines. They worshiped Apollo at Delphi, Zeus at Olympia (where the first Olympic games were held in his honor in 776 B.C.), Apollo and Artemis at Delos, etc. The Greeks celebrated festivals at these shrines with dance, song, and athletic contests.(7) These meetings reminded Greeks that they were one people, despite their political divisions, and prompted them to form some basic rules of interstate behavior concerning warfare, religious truces, and the sanctity of messengers. The Oracle at Delphi grew to become the most highly regarded oracle in the ancient world, visited by "barbarians" as well as Greeks. Whenever somebody came to Delphi with a question for the gods, they took it to a priestess called a pythia; before giving an answer, she inhaled fumes from burning bay leaves, and whatever she said under the influence of those fumes, no matter how garbled, was accepted as divine wisdom.(8) In the archaic period Delphi was very influential, fixing the site of prospective colonies and helping to formulate major policies for cities and individuals.

Colonization

Increasing stability and prosperity caused a growth of population. Civilization also returned via the Ionians, who learned the use of the alphabet from Phoenician traders, and sculpture from Egypt.(9) In fact, we often call the period from 800 to 600 B.C. the "Orientalizing Period," because several features of Middle Eastern culture appear in Greece at this time, from pottery featuring mythological animals (sphinxes, griffins, etc.) to Babylonian-style crested helmets.
From Ionia's eastern neighbor, Lydia, came two very important inventions, money and capitalism. Today, living in a nation that has been capitalist from the very beginning, it is difficult to imagine a society where people do not regard the regulation of price by supply and demand as a natural law, but that is the case in primitive communities. There the main rule is that status determines wealth, not the other way around; they allow you three strings of beads if you are important enough to wear them. Consumption is expected and done to express rank. Twentieth-century communist nations went back to this system because they protested the destructive social effects of laissez-faire economics, and people lost their liberty in the process. Conversely the introduction of the agora to the cities around the Aegean Sea dramatically affected the Greeks. In contrast to the towns of the Fertile Crescent, where there was no single place to go shopping (buying and selling was usually done either next to temples or in the workshop of one's house), the agora became the main center of activity in any Greek city. With a fistful of coins and an eye for an opportunity, the ordinary person entered history.
A great wave of colonization went out between 750 and 500 BC. Greek culture spread all around the Mediterranean and Black Seas. Besides the usual reasons for colonies (population pressure at home, the desire for outposts close to the sources of valuable products, etc.), there was politics; defeated political factions and disgruntled individuals would get together, charter a ship, and look for a new place to live. Whereas Phoenician shipping only accidentally created a new nation (Carthage), Greek colonization was a deliberate enlargement of the existing Greek world. Markets were opened so that Greece could export olive oil, wine, and pottery in return for precious metals, timber, grain, and other goods. Greek colonies were always self-governing from the start, though they kept commercial and religious ties with the mother city.
Cyprus was the first area settled outside the Aegean; by 800 B.C. two-thirds of the island had Greek colonists. Since the remaining third of Cyprus was Phoenician, the original Cypriot population was absorbed into the communities of the newcomers. A more important center of colonization was Sicily and southern Italy, the Roman Magna Graecia; here in 743 B.C. Corinth founded Syracuse, the greatest Greek city in the west. The coast of the Black Sea was settled by Ionia; grain and commerce with the Scythians lured colonists here. The island of Thera founded Cyrene in eastern Libya, while Egypt's XXVI dynasty (663-525 B.C.) invited the Greeks to establish a commercial emporium, Naucratis, in the Nile delta. Likewise, the establishment of outposts on the Syrian and Cilician coasts connected the Greeks with the Assyrian Empire and other Middle Eastern nations. Further expansion in Africa and Spain was blocked by the Phoenicians; the westernmost Greek colonies were on the French Riviera, led by Massilia. Neither Sparta nor Athens were colonial powers, though. Sparta founded Tarentum in Italy as a place to dump rebels (see footnote #8), while Athens had no colonies until after the Persian Wars, when overpopulation forced it to send out a few colonists.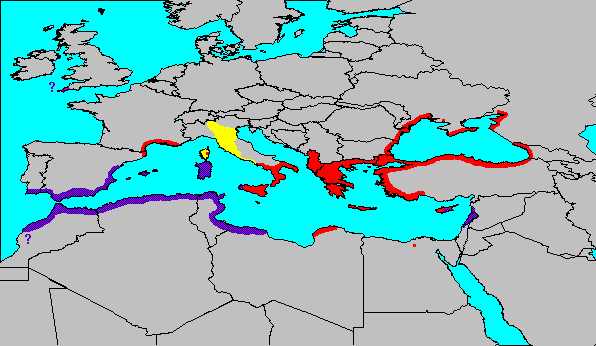 Greece and her colonies (red) in the mid-sixth century B.C. Also shown are the two main rivals of Greece, the Phoenicians (purple) and the Etruscans (yellow).


At least one Greek went farther than the colonists. Pytheas, a native of Massilia, became the greatest explorer of ancient times, because he supplemented his discoveries with astronomical, geographical and anthropological observations. Around 325 B.C., he explored the Atlantic coast of Europe, and wrote down the record of his expedition in a book, On the Ocean. Unfortunately this work has been lost; what we know about it comes second-hand from the historian Polybius, so most of the details are vague.

Commanding a single ship, Pytheas began his journey by sailing around the coast of Spain. In those days, the Phoenician city of Carthage dominated the western Mediterranean, and the Carthaginians blockaded the Strait of Gibraltar to keep trading rivals, especially the Greeks, out of the Atlantic. However, Carthage was involved in a war at the time, so the ships that normally guarded the strait were needed elsewhere, allowing Pytheas to slip through. Then he followed the coasts of Portugal, Spain, and France northward, until he reached the English Channel. Across the Channel he dropped anchor at Land's End, Cornwall, and discovered what the Carthaginians were hiding; Cornwall's mining and smelting industry was the best source of tin in the known world. Continuing up the west coast of Britain, he landed at many places to meet the natives; his main discovery here was that the Britons made fermented drinks out of grains (beer) and honey (mead).(10)

In northern Britain Pytheas learned of an island called Ultima Thule, six days sailing to the north. Ultima Thule was "the outermost of all countries," supposedly the most northerly inhabited land, where daylight lasted for 24 hours at midsummer. Historians do not agree on where this island was; some believe it was Iceland, while others assert it was Norway, because Iceland probably did not have anybody living on it this early. A few conservatives think Pytheas meant the Shetland Islands, and overestimated their size. The record does not even tell us if Pytheas went to Thule, but at least he tried; he got far enough north to write an accurate description of ice floating in the ocean, something a Mediterranean sailor would never see. After that adventure, Pytheas completed his circumnavigation of Britain. Apparently he also sailed along the German and Danish coasts, and may have entered the Baltic Sea, before returning home. Back in Massilia he didn't receive a hero's welcome; instead, like Marco Polo centuries later, he found his stories received with disbelief.

Aristocracy, Oligarchy, and Tyranny

The archaic period was also a time of great social upheaval. The kings were never allowed to have absolute power, and eventually members of the upper class found they could do quite well without a king over them, thank you. Usually they replaced the monarchy ("rule by one") with an aristocracy ("rule by the best"). However, once the aristocrats wrested power from the kings, they found their own supremacy challenged by those beneath them. Successful people of less-distinguished birth became increasingly dissatisfied with the prevailing aristocratic order and used their wealth to get power in their own right. The rise of literacy, the increased concentration of economic power in the hands of traders and artisans, and the introduction of the phalanx, shifted the balance of power to the general citizenry. The result was an oligarchy ("rule by the few"), where a handful of rich men from any background ran the government.
In the late 7th century BC, ambitious or sympathetic individuals capitalized on the general discontent, especially in prosperous cities, kicked out the aristocracies and oligarchies, and established one-man dictatorships, called tyrannies. Cypselus (657-625) seized control of Corinth and built a colonial empire, founding cities on the west coast of Greece and modern Albania. Tyrants also arose in Athens, Megara, Epidaurus, and Sicyon, just northwest of Corinth. In the Aegean, Polycrates (530-522), tyrant of Samos, made his island a major naval power.
Back then tyranny did not have the negative connotation it does today. Most tyrants tried to be beneficial rulers to their subjects, like the political "bosses" of big American cities. Though the tyrant seized power illegally and ruled without a constitution, his power ultimately derived from popular support. The first tyrants centralized the city-state, repressed the aristocracy, fostered commerce and the arts, built temples and other impressive public works, and brought civic pride to the masses. Their heirs, however, ruled despotically and caused their own destruction. Most tyrants were removed from power by the end of the 6th century, except in Sicily and other areas on the periphery of Greece, where they became monarchs rather than true tyrants.
After the tyrants, the next step in Greece's political evolution was democracy, "government or rule by the people." However, few city-states besides Athens produced a fully developed democracy. Most of the others stopped at an earlier political stage (e.g., Sparta never progressed past oligarchy). Ironically, the Greek state which conquered the others in the mid-fourth century, Macedonia, still had a king, which may be the reason why it prevailed in the end (King Philip never agreed with the opinion that city-states are better than kingdoms).

Militant Sparta

The Spartans believed the founder of their society was a mysterious figure named Lykurgos. Nobody knows when he lived, or even if he really existed; dates on him range from 1000 to 615 B.C., and the author thinks 660 is most likely. According to Plutarch, Lykurgos came along when Messenia was in rebellion, and Sparta was in a state of anarchy. Lykurgos brought order by marching into town with some like-minded friends in full armor. The people listened to his radical ideas, but did not easily accept them. The lawgiver himself lost an eye in a scuffle with a young aristocrat who opposed the new order. It is hard to say how many of Sparta's militarist customs were started by Lykurgos, but everyone agrees that he set the tone for what followed.
To start with, they evenly divided the land among all "true Spartans." It was worked by serfs from Messenia and other conquered states called helots, who had to give half their harvest to the Spartan lords. Spartans were ordered to live simply; silver, gold, and home decorations like fancy ceiling beams were banned. They also abolished eating at home; all Spartans joined "mess clubs" where they took meals for the rest of their lives.
The monarchy was devalued; two kings took the place of one, and power went to a council of the city's thirty best men, which was presided over by an ephor, or head man. They did not write down the law code, so to make sure everyone knew it, musicians sang it during festivals.
The women of Sparta enjoyed more independence and rights than Greek women elsewhere. They received military training, owned property, and ran Sparta while the men were off fighting wars. We credit a Spartan woman with saying that it is better for a warrior to be carried back (dead) on his shield than to come home without it.
Because he had taken out all silver and gold of circulation, Lykurgos introduced a currency made of iron, which he may have seen as an appropriate symbol of strength. The iron money had to be cast in sizeable ingots to be worth much, which produced several advantages from the non-merchant's point of view. It was too bulky to steal, not worth the trouble to counterfeit, rusted if hoarded, and wasn't even easy to spend. It also discouraged commerce with others, according to Plutarch: "No rhetoric-master, fortune-teller, harlot-monger, jeweler or engraver would set foot in a country which had no money." This meant that Spartans knew little about either foreign vices or marketing skills.(11)
After Lykurgos, Sparta began to form a series of alliances with other city-states and localities, which it turned into the Spartan-led Peloponnesian League. Sparta's policy after this was to oppose and overthrow the tyrannies. This policy was generally successful; by 550 B.C. Arcadia, Elis, Corinth and Megara were members of the League, and Boeotia (Thebes) joined it when the Peloponnesian War broke out.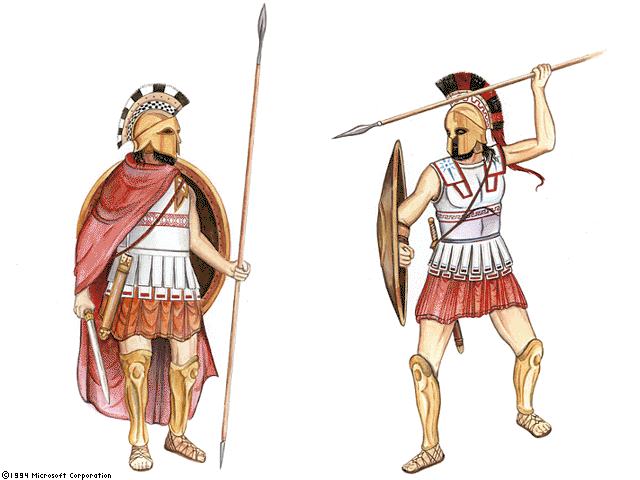 Spartan Warriors.
Turning a boy into a hoplite required strength, speed and discipline, and the Spartans worked overtime to achieve this. They did not pamper children; sickly babies were left outdoors to die, and at the age of seven, the typical Spartan boy had to leave home and enter a dormitory. He had his head shaved, was only allowed two baths a year, and had to go to a swamp and pull--not cut--reeds for his sleeping mats. At the age of twelve, he was issued a cloak, which served as his only clothing and blanket. When he turned sixteen, they sent him out to live off the land for several weeks. Stealing and murdering helots was encouraged, but if caught, he would be severely punished, not because of what he did, but because somebody caught him! Often they also ritually whipped Spartan youths, to make them tougher and to teach them that dying was better than crying out for mercy.
The Spartan youth's military training started when he was eighteen, and it lasted for two years. After that he had to stay in the barracks until he was thirty, always ready for battle. If he married during that time (see footnote #36 below), he still had to live away from his wife; he only saw her by sneaking away for conjugal visits. At the age of thirty, he left active duty (but stayed in the reserves), and faced a critical test. To join a mess club, earn the right to vote and become a full citizen, he had to be elected unanimously; one negative vote made him an "inferior" (perioikoi), a non-citizen hardly better off than the helots. If elected, he sat in the assembly and campaigned and dined with his club; if he lived to sixty he could become an oligarch.
The Lykurgan reforms achieved their goal; Sparta was always in a state of full military readiness, and one Spartan soldier was considered as good as a dozen men from anywhere else. That is why today we still call a life which emphasizes military virtues "Spartan." The cost, however, was so expensive that no other city-state dared to try it. Because engaging in economic activity had been so sharply curtailed, the Spartans depended on an underclass they held in contempt--the helots and "inferiors"--to meet all their needs. They also were obsessed with fears of corruption from contact with the outside world, and worried about revolts all the time, because they treated the helots even rougher than they treated themselves. Those undergoing military training served in a police force called the krypteria, whose purpose was to spy on and terrorize the helots. Sparta had created a society that was introverted, yet fiercely aggressive toward anything which might endanger it.

The Athenian Road to Democracy

The political history of Athens followed a longer, less even course. It started with social and economic upheaval, caused by the introduction of that Lydian invention, money. Previously, poor farmers got the grain they needed to plant their crops by borrowing it from an upper-class landowner. To pay off the debt, they gave the lender part of their harvest at the end of the season, and worked part-time on his farm. Then when money arrived, some landowners bought slaves to work their fields with. This threatened to undercut the other landowners, and the only way they could compete with this was to enslave farmers who did not pay their debts. This was too much; Athenians didn't mind having non-Athenian slaves, but they detested the idea of Athenians becoming slaves!
To resolve problems like these, a tyrant named Draco produced a new law code in 621, the first written constitution for Athens. However, it was also an incredibly harsh law code, which made almost any crime (even the stealing of an apple) punishable by death. Consequently we have called brutal laws and governments "Draconian" ever since. Still, Draco was a popular leader during his lifetime; apparently the Athenians, like many modern conservatives, felt that their society needed more law and order. Sometime after that, Draco went to the theatre of Athens, where a play was being held in his honor. The crowd showed their approval by not only applauding him, but also by throwing their hats, shirts and cloaks down on him (a traditional Greek custom). In fact, they covered Draco with so many pieces of clothing that he suffocated, and was buried in the same theatre!
Because the laws of Draco did not solve the city's problems, Athenians turned to Solon in 594, and gave him dictatorial powers as diallaktes, or mediator; he canceled debts, abolished debt-slavery, wrote a more humane law code and made ownership of land the main criterion of public office.(12) Yet his reforms were only temporarily successful; neither rich nor poor were satisfied, civil strife soon broke out again, and Solon decided to leave town, rather than keep absolute power. On those trips he visited Lydia, resulting in the dialogue with Croesus we saw at the beginning of this chapter, and he visited Egypt, from which he brought back the Atlantis myth (later Plato introduced it to us).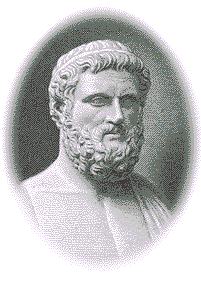 Solon.



The poorest citizens, to whom Solon had given nothing but the right to vote, approached a general named Peisistratus and asked him to seize power. He tried to do so by putting on a show; he came out of the hills in a wagon pulled by oxen, with a tall young woman dressed in armor to resemble the goddess Athena (561). Not everyone was convinced, though, that he had the favor of the gods, and soon they ran him out of town. While in exile, he bought gold mines, used the profits to raise a private army, returned and defeated his aristocratic rivals. This time he had himself proclaimed tyrant of Athens, and ruled successfully for the last nineteen years of his life (546-527). As promised, he discriminated in favor of the city's least privileged citizens: he gave them the land of banished enemies, and enforced Solon's laws. He also made Athens a cultural center, by promoting both the cult of Dionysus and the theater (a recently invented art form), and increased the production and export of wine and olives. Finally, during his reign Athenian black-figured wares replaced Corinthian pottery as the most popular ceramics in Greece.

Peisistratus bequeathed a peaceful and prosperous Athens to his sons Hippias and Hipparchus. They ruled as co-tyrants until 514, when two aristocratic rivals murdered Hipparchus. This made Hippias paranoid, and he became the kind of tyrant we are familiar with; he hired foreign mercenaries, raised taxes to pay for them, and turned Athens into a police state. An anti-tyrannical faction named the Alcmaeonids plotted against Hippias, and they agreed that to beat the mercenaries, they would need to call in somebody tougher. That somebody could only be the Spartans. Since the Spartans were also the most religious Greeks, the Alcmaeonids knew how to persuade them to help--bribe a priest! To do this they financed construction on a magnificent white marble temple at Delphi, and had a few words with the priestesses. After that, whenever a Spartan petitioner went to the Oracle, he was given the same answer to whatever question he had: "Liberate Athens!" The Spartans got the message, liberated Athens, and then went home again.(13)

However, there no peace just yet. Now that the Peisistratids were gone, the upper class tried to make Athens an aristocracy, while the lower class wanted a democracy. The aristocratic leader, Isagoras, called back the Spartans and exiled the leader of the democrats, Cleisthenes. However, in 507 Cleisthenes returned with an army and blockaded both the Spartans and the aristocrats on the highest hill of Athens, the Acropolis. When the siege ended the Spartans were allowed to leave, but every enemy of democracy was slaughtered. This event, which we now call the Athenian Revolution, established the famous democracy of Athens. We will describe how the Athenian democracy worked after the next section.

The Persian Wars

Now that Athens was doing so well at home, it went out to settle some grudges, since like most city-states, it was habitually on bad terms with all its neighbors. The years immediately following the Athenian Revolution saw petty wars with Corinth, Thebes, Aegina, and Euboea. Athens won every time, and soon it replaced Sparta as the dominant city-state in Greece. These successes gave the Athenians the confidence they would need to face the Persian Empire, just a few years later.
The Persians first moved into the area in 546 B.C., when Cyrus II's conquest of Lydia brought Ionia into the empire. In 516 B.C. Darius crossed the Bosporus to invade Europe. His army put Thrace and Macedonia under Persian rule, but his real objective was the Scythians, and after marching into the Ukraine against them, he came back empty-handed. The Ionian Greeks saw this as a sign of Persian weakness and revolted, with Athenian assistance. Darius put down the rebellion, and decided that he would have to conquer Athens, to keep Ionia pacified. In 492 he sent another army, under the command of a general named Mardonius, into Thrace and Macedonia. The campaign came to a premature end, though, when a storm wrecked the supporting fleet near Mt. Athos. The Persians tried again in 490; this time they sent their fleet directly across the Aegean, only making stops to attack Naxos and Eretria on the way, before they landed 20,000 men on a beach near Marathon, about 26 miles northeast of Athens. The Athenians immediately sent a runner named Pheidippides to Sparta, with a message requesting aid against the Persians. Unfortunately the Carneia, a religious festival, was going on in Sparta, and Spartan law did not allow military activity during that time. The Spartans didn't want to offend the gods, so they declined; maybe after the festival they would come and help. Except for 2,000 men from Plataea, the Athenians would have to win the war by themselves.
Besides the Plataeans, the Athenians could only muster 5,000 hoplites, so they assembled on a hill above the plain of Marathon, and waited. The reason for the wait is that the Athenians had the most democratic army around; ten generals led it, five of them voted to attack now, and the other five voted to wait for the Spartans. The gridlock ended on the tenth day, when the Persian fleet and cavalry went off to attack a nearby town, and the Athenian "general of the day," Miltiades, gave the order to attack. Though outnumbered by nearly 3 to 1, their phalanx split into three units, charged down the slope, and hit the Persians from both the front and the sides. The final score: Persia lost 6,400 men, and Athens lost only 192 (they did not count Plataeans and slaves, though). The surviving Persians sailed around the peninsula of Attica, hoping to capture Piraeus, the port of Athens, only to find the Athenians ready for them, so they went home instead. A few days later 2,000 Spartans arrived, checked out the battlefield at Marathon, and congratulated the Athenians on a job well done.(14)
The battle of Marathon was one of the most important in history; it destroyed the belief in Persian invincibility and showed, as Herodotus explained, that "free men fight better than slaves." Nevertheless, the Persians began preparing more thoroughly for a second invasion. It took ten years; in the middle of that period Darius died and his son Xerxes took the throne. Back in Athens, Miltiades was accused of misusing public funds, and he died in prison; this made Athenians wonder at the fickleness of fate (and others wondered at the fickleness of Athens). In his place Themistocles, an illegitimate son of a vegetable vendor, became the leading man in Athens. Between 487 and 483 he succeeded in ostracizing all his rivals: Hipparchus, Megacles, Xanthippus and Aristides.(15) Then the Athenian silver mines made an especially rich discovery, which Themistocles used to finance his warship-building program. By the time the Persians came back, Athens had 200 triremes (battleships driven by three banks of oars), the largest fleet in Greece, while Sparta took the lead in forging an alliance of thirty-one states.
The Persian army--reckoned by Herodotus at 2,500,000 but more likely 180,000--marched along the Aegean coast accompanied by a great fleet carrying provisions. The states of northern Greece submitted; they knew resistance was hopeless and just wanted to get that huge army out of their territory before it ate and drank everything in sight. The Greek alliance sent an advance force to Thermopylae, where they planned a holding action. In those days (erosion has made it much wider since then), Thermopylae was an extremely narrow pass between some cliffs and the sea, scarcely wide enough for a chariot to pass through; here a few men could hold back a thousand indefinitely, canceling the Persians' numerical advantage. The first three attacks failed utterly, with the Persians suffering appalling losses, until a Greek traitor named Ephialtes showed them how to get around Thermopylae and the Greeks. As the Persians advanced this way, Greek scouts reported their movement to the Greek commander, a Spartan king named Leonidas. Realizing that they would soon be trapped, Leonidas decided to make a last stand, buying more time for the rest of Greece. He ordered most of the soldiers to leave, and kept only those he could count on to fight to the death--300 Spartans and 1,100 others. As the Persians darkened the sky with their arrows, the Spartans fought magnificently; when they lost their weapons, they used their fists and feet, not stopping until the last of them was dead. This act of bravery raised the reputation of the Greeks even higher than the victory at Marathon had done. Afterwards the Spartan dead were immortalized on a monument built at the pass: "Go tell the Lacedaemonians, you who pass us by, that here, obedient to their laws, we lie."(16)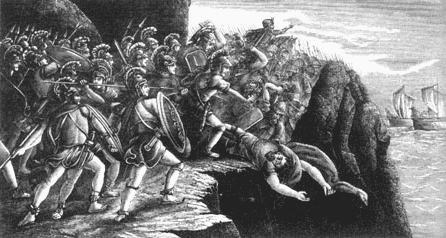 The battle of Thermopylae.
On the same day both fleets met at nearby Artemision, where they fought an inconclusive battle. Now the Greeks were forced to retreat; the fleet went around Attica to the island of Salamis, near Athens. Thebes submitted to the advancing Persians, and Xerxes pushed on to Athens. However, his army was too big to move fast, which gave the Athenians time to evacuate their women and children to Salamis. When the Persians arrived they stormed the Acropolis, killed a few diehards who wouldn't leave the city, and put every building to the torch. Xerxes had avenged his father's defeat at last.
The Athenian refugees stayed with the navy because the Oracle at Delphi had predicted that Athens could only defend itself with "wooden walls." By now they had figured out that "wooden walls" meant their fleet. However, they couldn't agree on how to use it; although nearly half the ships were Athenian, the non-Athenians refused to take orders from an Athenian admiral. Themistocles gave in to their wishes and stepped down in favor of a Spartan commander, Eurybiades, but secretly gave him some money to keep him friendly. The other issue was where to make their stand; the southern Greeks, including the Spartans, wanted to draw a new defensive line at the isthmus of Corinth, abandoning everything but the Peloponnesus to the enemy. To keep the southerners from having their way, Themistocles pulled a neat trick; he sent a letter to the Persians, telling them exactly where the Greek fleet was, so they could attack before the Greeks could get away.
As the Persians entered the narrow strait between Salamis and the mainland, the Greek ships backed up, allowing the Persians to have their way--to a point. When they had their backs to the beach, the Greeks suddenly charged forward and began ramming or shearing the oars off the Persian ships, spurred on by the shout: "On, sons of the Greeks! Set free your country, set your children free, your wives, the temples of your country's gods, your fathers' tombs; now they are all at stake."(17) Soon the Persians were suffering from the same problem that would afflict the Spanish Armada, 2,000 years later; they didn't have enough room to maneuver effectively, but the smaller Greek fleet did. The result was total confusion on the Persian side, as new ships rushed through the bottleneck to impress the Great King, only to find their way blocked by other ships trying to get out.
Xerxes parked his throne on a nearby hill, where he could get a panoramic view of the whole battle. He didn't like what he saw. In the water he could see the heads of Greeks swimming to land, but "of the Barbarians the greater number perished in the sea, not knowing how to swim." Herodotus told of a particular scene, where an Ionian queen named Artemisia, an ally of the Persians, was chased by an Athenian trireme, and accidentally rammed another Persian vessel while trying to escape. In the resulting confusion, the Athenians thought Artemisia must be on their side, and broke off their pursuit. Xerxes mistakenly thought the ship Artemisia had sunk was a Greek one, and exclaimed, "My men fight like women, and my women fight like men!"(18)
With 200 of his 350 ships destroyed and his lines of communication cut, Xerxes had no alternative but to retreat. Themistocles sent him another letter, in which he apologized that things didn't go as planned, but at least he had restrained his comrades so they wouldn't pursue the Persians all the way back to Asia. Xerxes took the hint and went home, though he left a force of 80,000 men in Greece, under the command of Mardonius. As the Persians withdrew, Themistocles visited several minor members of the alliance and bullied them to cough up more gold, to pay for the war effort. The only one he didn't get anything from was the island of Andros. When he told the Andrians that the Athenians were rich and powerful because of two great gods, Persuasion and Compulsion, they replied that they had two useless gods who wouldn't leave their island, Poverty and Inability!
The following summer (479 B.C.) the Greek army, with the Spartan contingent in the vanguard, routed the Persian force at Plataea, killing Mardonius and most of his men. There was a memorable episode afterwards, when the Spartan commander, Pausanias, visited the tent used by both Xerxes and Mardonius as a command post, and couldn't believe the luxury he saw; he called the other Greek generals, and said, "Gentlemen, I asked you here in order to show you the folly of the Persians, who, living in this style, came to Greece to rob us of our poverty."(19) On the same day as the battle of Plataea, the Greek navy caught and destroyed the surviving Persian ships at Cape Mycale, near Miletus in Ionia. For the time being, Greece was safe from invasions.

Why the Greeks Won

Neither Darius I nor Xerxes expected to have a tough time conquering Greece. Compared to the Persian Empire, Greece was poor and underpopulated; the Persian army and navy was many times larger than what the Greeks could muster, even if we don't believe the exaggerated figures of Herodotus; the intense political divisions of Greece made it appear unlikely that they would unite against an outside enemy. In addition, the Middle East had been the leader in military technology for the past two thousand years. Bronze and iron weapons, metal armor, chariots, cavalry, compound bows and war galleys had all made their first appearance in Asia. There were a couple of glorious centuries for the Egyptians, when New Kingdom pharaohs adopted the light chariot and used it to conquer Nubia, Libya and Syria, but that ended when first the Hittites, and then the Assyrians, introduced a heavy chariot that was better suited for fighting than for running away.
Consequently, if you had been an observer at Marathon or Salamis, nobody would have been surprised to see you bet on a Persian victory. Instead, Greece (or the city-state of Athens, to be exact) triumphed. Nor was that all; after Salamis, Persian monarchs hired Greek hoplites as mercenaries, but no Greek commander hired Persians; around 400 B.C., Greek adventurers like Xenophon and Agesilaus found that they could meddle in the Persian Empire's western satrapies without much concern for retaliation from the Great King; finally Alexander the Great turned the tables and conquered the Persians. The military balance had shifted from east to west, and in most east-west confrontations since that time, the West has been the winner. What happened?
The Greeks themselves thought it was because they were free men. They were fighting for their homes, and for what we would call their right to "life, liberty and the pursuit of happiness." Moreover, they could debate each decision, and those who disagreed with their commanders were allowed to propose a better plan if they had one. This made for a more flexible army than what their opponents had. Contrast this with the typical Persian soldier. Even if he wasn't technically a slave, he might as well have been one; the Persian's morale couldn't have been very high if he never expected to see his homeland again, and Xerxes had a reputation for getting nasty with those who didn't do what he wanted.
Another factor was that although the Greeks had their differences, as we have noted previously, they were not as heterogeneous a group as their enemies; they all spoke the same language, even if their dialects were different. The Persians, on the other hand, had an army composed of troops from all 127 provinces of their empire, "from India to Ethiopia," as the writer of the Old Testament Book of Esther put it. Their navy was also polyglot, combining Phoenician, Cypriot, Egyptian and Ionian ships. In ancient times, communications tended to break down easily in a unit where the members spoke more than one language; the Egyptians, for example, did not even take part in the battle of Salamis, but sailed on to Megara because they heard a rumor that the Greeks had escaped to there.
The most important factor was that the Greeks brought a new attitude to warfare. Asia has plenty of wide-open spaces, so during the first millennium B.C., Asian armies began using archers on horseback, and have done so for most of the time since. In Greece, however, a shortage of pastureland made horses an expensive luxury; only Macedonia and Thessaly had enough pastures to raise many of them. Thus, for the Greek city-states, heavy infantry became the most cost-effective military units. We already saw how they developed the phalanx formation to make the most of a frontal charge by infantry; now they would use their intellect to apply a scientific approach to the task of killing people and breaking things. A battle involving thrown spears or volleys of arrows can decimate or demoralize an opponent, but it doesn't kill as many enemies as hand-to-hand combat. The Greeks expected heavy casualties whenever two phalanxes slammed into one another, as Herodotus explained by putting words into the mouth of the Persian general Mardonius:
"Yet, from what I hear, the Greeks are pugnacious enough, and start fights on the spur of the moment without sense or judgment to justify them. When they declare war on each other, they go off together to the smoothest and levellest bit of ground they can find, and have their battle on it -- with the result that even the victors never get off without heavy losses, and as for the losers -- well, they're wiped out."(20)
---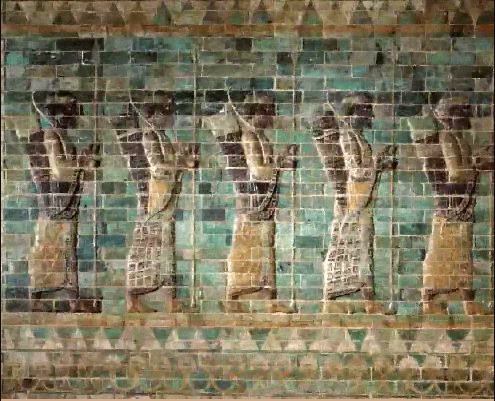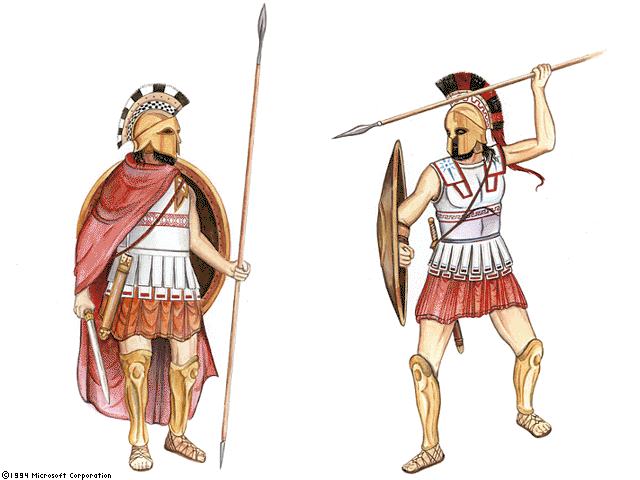 These pictures of Persian and Spartan warriors have appeared elsewhere on this website, but are worth putting together to compare differences. The Persians, even the elite guard (the "Immortals"), didn't wear much armor; in fact, the Persian king Cyrus relied on tricks to conquer Lydia and Babylon, rather than brute force. By contrast, a Greek hoplite would go into battle carrying as much as seventy pounds of weapons and armor, and in the case of the Spartans, would spend the active years of his life training and keeping in shape under that load. In a one-on-one fight, the Greek would undoubtedly win. To offset their disadvantage the Persians first hired Greeks, and when they could no longer get them, brought in elephants and scythed chariots, but they proved to be no substitute for a solid heavy infantry.


---

Philip of Macedon added cavalry to back up the phalanx, since that would be needed on the plains and hills of Asia, and gave his hoplites longer pikes. Alexander the Great had these units work closely together; part of the cavalry would stay on the wings to prevent flank/encircling attacks by the still-larger Persian army, while Alexander led the best horsemen in the center to punch holes in the Persian line, thereby making the phalanx's job easier. He also introduced the concept of total war. In the past, Greeks often let a single clash between two phalanxes decide a war, giving the survivors time to go back to their farms before the growing season ended. Now Alexander made the destruction of the enemy his primary goal, instead of showing off his skill on the battlefield. At Issus he made a direct charge at Darius III, correctly guessing that the Persian formations would break if they saw their king running away. It was the same story at Gaugamela. After Alexander's death his generals made heavy use of mercenaries, creating an even bigger gap between the professional soldier of their age and the landowning, part-time soldier of the past.

The next important European civilization, that of the Romans, learned the military lessons of the Greeks well. We will see in the next chapter how they fought with more determination than their Italian, Celtic and Carthaginian opponents, and often this was enough to decide the winner. They also made their own military units, the legions, more flexible than the phalanx, and thus deadlier. After the Romans, there was a step back to warfare being a contest between champions, as was the case in pre-classical Europe, but even then they used the heavy cavalry of an armored knight wielding a lance, a phalanx of sorts on horseback, rather than the mounted archers of Asia and North Africa. Then in the sixteenth and seventeeth centuries, a military revolution brought the infantryman back to his key place in European armies (see Chapter 11). Westerners haven't forgotten that lesson since then; cavalry and missile weapons--from arrows and catapults to today's howitzers and jet fighters--are always helpful, but you still need the lowly foot soldier to take a piece of ground and hold it.

Non-European cultures have produced their share of brave warriors; the difference was that they took warfare personally, regarding it as a matter of honor. Such warriors count their success in battle by acts of courage, and by how many trophies they brought back; the latter might include live captives to torture and sacrifice. None of them were likely to win recognition for rescuing a comrade; they also found it difficult to fight in any sort of formation, and total destruction of the enemy was not on their minds. Finally, they would avoid combat if the opponent was seen as not worth fighting, or if otherwise they could not win by their rules. By contrast, most of the battles that went down in history as meat grinders, destroying men as fast as they could arrive, involved two European armies. Brave as they were, no Maori, Zulu or samurai would have stayed at Alesia, Verdun or Stalingrad to see how it turned out. It's safe to say that the greatest danger to a Western army is another Western army, and when non-Europeans beat Europeans--like Hannibal against the Romans or the Japanese against the Russians--it was usually because the non-Europeans learned how to use the weapons and tactics of their opponents.

Athenian Democracy

The part they played in defeating the mighty Persian empire exhilarated the Athenians and gave them the confidence and energy that made them the leaders of the Greek world for the rest of the fifth century B.C. The forty-eight years between the Persian Wars and the Peloponnesian War are glorified in most history books as the Golden Age of Greece, when the Athenians "attempted more and achieved more in a wider variety of fields than any nation great or small has ever attempted or achieved in a similar space of time."(21) Athens was adorned with magnificent temples, gymnasiums, theaters, and other public buildings. Many of the greatest Greek artists, writers and thinkers lived in Athens during this time: Phidias, Aeschylus, Sophocles, Euripides, Hippocrates, Herodotus, Thucydides, Anaxagoras, and Socrates.
The first years were easy ones from a political standpoint, because Sparta was weak and friendly.(22) In 470 Themistocles was ostracized because many Athenians thought he was letting success go to his head; he found a comfortable home among the Persians in the town of Magnesia, where he spent the rest of his days. Cimon, the son of Miltiades, became the new head man of Athens.
In 464 a severe earthquake devastated Sparta, and the oppressed helots seized the opportunity to revolt. The Spartans suppressed most of them quickly enough, but one group entrenched itself at Mt. Ithome in Messenia and resisted the clumsy Spartan efforts to dislodge it. Sparta's allies came to her aid, and Sparta even asked Athens for assistance. Cimon compared Athens and Sparta to a pair of oxen when he said in a speech, "Will you stand by and see Greece hobbled, and Athens without her yokemate?" They voted to help, and 4,000 Athenian hoplites marched to Sparta. However, these hoplites were men full of radical democratic ideas, and once the Spartans learned that they favored human rights, they feared the Athenians would switch sides. Sparta sent the Athenians home before they took part in any fighting, and put down the rebellion on its own.(23)
Cimon fell out of favor because of this fiasco. Leading conservatives were put on trial for corruption, and in 461 Cimon was ostracized. As he left, the democrats reduced the power of the Areopagus (the assembly of the rich from aristocratic days), so that all it could do was advise, and perform minor judicial and religious functions. Then they reduced the property requirements formerly imposed on all public officials to a mere token sum, allowing any freeborn male in Athens to fully participate in the government. The radicals now dominated Athens, and their leader was a nephew of Cleisthenes--Pericles. For the next thirty-two years (461-429 B.C.), Pericles was Athens' greatest statesman, dominating the city with nothing but his ability to persuade others. Because of him, the Golden Age of Athens is also called the Periclean Age.(24)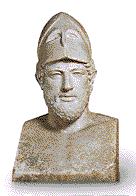 Pericles.
Under Pericles the Athenian democracy achieved its fully developed form. The main body was the popular assembly, which gathered on a hill called the Pnyx; the amphitheater where they met had 18,000 seats, and any citizen could participate. From the assembly came the jurors, and the Council of Five Hundred; members of both were chosen by lot, so that the most popular or the richest wouldn't serve every time. They allowed no lawyers on lawsuits or criminal cases, while anywhere from 251 to 2,500 jurors took part in a typical case. Jurors were placed in groups of ten, and a magistrate randomly gave out white and black marbles to each group; those who received a white marble went to work that day. The Council of Five Hundred set the Assembly's agenda, and each month fifty of its members were on duty, 24 hours a day (the Athenian calendar had ten months of 36 days each). Eight of the archons (judges) were elected, while the ninth, the Archon Polemarchos, came from what was left of the Athenian royal family. Nobody served a term lasting more than a year, and the only appointed positions were those which required special skills, like state architect and finance minister.
This total democracy did not have a chief executive; not even a president or prime minister. Instead, military matters and executive functions were run by a board of ten elected generals. These generals urged the Popular Assembly to adopt specific measures, and both their success and popularity determined whether they would be reelected at the end of their annual term. Pericles distinguished himself by leading a squadron of ships against both Sparta and Thebes in 457 B.C., and afterwards became a lifelong advocate of a strong navy. His prestige reached such heights that he won every election for thirty years in a row, and so great was his influence on the Athenians that, in the words of the contemporary historian Thucydides, "what was in name a democracy was virtually a government by its greatest citizen."(25)
For the first time, they made payment to citizens for performing public duties, allowing even the poorest to become jurors and members of the Council of Five Hundred. Attendance at civic meetings became a subsidy for the lower class. Only the army remained in the hands of the well-to-do, because each soldier was still expected to pay for his equipment; by contrast, the navy was overwhelmingly democratic, because most of its sailors were poor. Conservatives called the payments for political participation a form of bribery, but Pericles insisted that it was essential to the success of democracy:

"Our constitution is named a democracy, because it is in the hands not of the few but of the many. But our laws secure equal justice for all in their private disputes, and our public opinion welcomes and honors talent in every branch of achievement, not as a matter of privilege but on grounds of excellence alone . . . [Athenians] do not allow absorption in their own various affairs to interfere with their knowledge of the city's. We differ from other states in regarding the man who holds aloof from public life not as "quiet" but as useless; we decide or debate, carefully and in person, all matters of policy, holding, not that words and deeds go ill together, but that acts are foredoomed to failure when undertaken undiscussed."(26)

Greek Medicine

Superstitions about the human body blocked the development of medical science until 420 B.C., when Hippocrates, the "father of medicine," founded a school in which he emphasized the value of observation and the careful interpretation of symptoms. Such modern medical terms as "crisis," "acute," and "chronic" were first used by Hippocrates. He was firmly convinced that disease resulted from natural, not supernatural, causes. Writing of epilepsy, considered at the time a "sacred" or supernaturally inspired malady, one Hippocratic writer observed:

"It seems to me that this disease is no more divine than any other. It has a natural cause just as other diseases have. Men think it supernatural because they do not understand it. But if they called everything supernatural which they do not understand, why, there would be no end of such thing!"(27)
The Hippocratic school also gave doctors a sense of service to humanity which they have never lost. All members took the famous Hippocratic Oath, still in use today, which says things like: "I will adopt the regimen which in my best judgment is beneficial to my patients, and not for their injury or for any wrongful purpose. I will not give poison to anyone, though I be asked . . . nor will I procure abortion."(28)

Despite their empirical approach, the Hippocratic school adopted the theory that the body contained four liquids or humors--blood, phlegm, black bile, and white bile--whose proper balance was the basis of health. This doctrine impeded medical progress until modern times.

Hellenic Poetry and Drama

We can classify Greek literary periods according to the dominant poetic forms of the times. First came the time of epics, exemplified by Homer's two great works, the Iliad and the Odyssey.
As Greek society became more sophisticated, a new type of poetry, written to sing with a lyre, arose among the Ionian Greeks. Unlike Homer, authors of this lyric poetry sang not of legendary events but of present delights and sorrows. This new note, personal and passionate, can be seen in the following examples, in which the contrast between the new values and those of Homer's heroic age is sharply clear. Whereas Homer saw Arete (excellence) as the greatest virtue, Archilochus of Paros (seventh century B.C.) unashamedly throws away his shield so he can run from the battlefield:

"My trusty shield adorns some Thracian foe; I
left it in a bush - not as I would! But I have
saved my life; so let it go. Soon I will get
another just as good."(29)
While Homer imagined an unromantic, purely physical attraction between Paris and the abducted Helen, Sappho of Lesbos (sixth century B.C.), the first female poet on record, saw Helen as the helpless, unresisting victim of romantic love:

"She, who the beauty of mankind
Excelled, fair Helen, all for love
The noblest husband left behind;
Afar, to Troy she sailed away,
Her child, her parents, clean forgot;
The Cyprian [Aphrodite] led her far astray
Out of the way, resisting not."(30)

Greek drama began with the religious rites of the Dionysian mystery cult, in which a large chorus and its leader taught moral lessons through singing and dancing. Thespis, a contemporary of Solon, added an actor called the "answerer" to converse with the chorus and its leader. This made dramatic talk possible. By the fifth century B.C. in Athens, two distinct forms--tragedy and comedy--had evolved. Borrowing from the old familiar legends of gods and heroes for their plots, the tragedians reinterpreted them in the light of the values and problems of their own times.
In reworking the old legends of the heroic age, Aeschylus (525-456 B.C.) sought to spread the new religious values of his age, by showing how the old beliefs cause suffering. In his trilogy, the Oresteia, for example, he concerned himself with the murder of Agamemnon by his queen following his return from the Trojan War, and then went on to work out the consequences--murder piled on murder until people through suffering learn to substitute the moral law of Zeus for the primitive law of the blood feud. Like the prophets of Israel, Aeschylus taught that while "sin brings misery," misery in turn leads to wisdom:
"Zeus the Guide, who made man turn
Thought-ward, Zeus, who did ordain
Man by Suffering shall Learn.
So the heart of him, again
Aching with remembered pain,
Bleeds and sleepeth not, until
Wisdom comes against his will."(31)

A generation later, Sophocles (c. 496-406 B.C.) largely abandoned Aeschylus' concern for working out divine justice and concentrated upon human character. To Sophocles, a certain amount of suffering was inevitable in life. No one is perfect; even in the best people a tragic flaw causes them to make mistakes. Sophocles dwelled mainly on the way in which human beings react to suffering. Like the sculptors of his day, Sophocles viewed humans as potentially ideal creatures, and he displayed human greatness by depicting people experiencing great tragedy without whimpering--and sometimes triumphing over it in the end.
Euripides (c. 480-406 B.C.), the last of the great Athenian tragedians, reflects the rational and critical spirit of the late fifth century B.C. Instead of idealizing humanity, as Sophocles did, Euripides viewed human life as pathetic, the ways of the gods ridiculous. His recurrent theme was "Since life began, hath there in God's eye stood one happy man?" For this he has been called "the poet of the world's grief." Euripides has also been called the first psychologist, for he looked deep into the human soul and described what he saw with intense realism. Even Sophocles admired this; he once compared Euripides with himself by saying, "He paints men as they are, I paint men as they ought to be." Far more than the other playwrights, Euripides strikes home to us today. His Medea, for example, is a startling and moving account of a woman's exploitation and her retaliatory rage. When Medea's ambitious husband discards her for a young heiress, she kills her children out of a bitter hatred that is the dark side of her once passionate love:

"He, even he,
Whom to know well was all the world to me,
The man I loved, hath proved most evil. Oh,
Of all things upon earth that bleed and grow,
A herb most bruised is woman.
. . . but once spoil her of her right
In man's love, and there moves, I warn thee well,
No bloodier spirit between heaven and hell."(32)

Comedies were bawdy and spirited. There were no laws against libel or obscenity in Athens, so political satire became a favorite subject of the comedians. Aristophanes (c. 445-385 B.C.), the most famous comic-dramatist, brilliantly satirized Athenian democracy as a mob led by demagogues, saw the Sophists (among whom he included Socrates) as subversive, Euripides as an underminer of civic spirit and traditional faith, and the youth of Athens as irresponsible youngsters more interested in the latest fashions than in politics. Yet he also put intelligent messages between his jokes. For example, in his play Lysistrata, the women of Greece stop the Peloponnesian War with a sex boycott, refusing to sleep with their husbands until they agree to end the fighting; thus, he could advocate peace and women's rights in the same story. By allowing such ribald humor even in difficult times, the Athenians may have shown us why Athens remained a cultural center after its best years ended; they were never afraid of the truth, and could always laugh at themselves.

Hellenic Architecture

In the sixth century B.C. architecture flourished with the construction of large temples of stone. Their form was a development from earlier wooden structures influenced by the remains of Mycenaean palaces. Architecture, like so many other aspects of Greek culture, reached its zenith in Athens during the fifth century B.C.
For a generation after the Persian Wars, the Athenian Acropolis was left bare, to remind citizens of what the Persians did to their city. However, in 449 B.C. Athens finally signed a peace treaty with Persia, so Pericles launched a great building program, because he felt that the glory of the city should be expressed in some visible form.
The Parthenon, the Erechtheum, and the other temples on the Acropolis exhibit the highly developed features that make Greek architecture so pleasing to the eye. All relationships, such as column spacing and height and the curvature of floor and roof lines, were calculated and executed with remarkable precision to achieve a perfect balance, both structurally and visually; for example, they gave the columns a delicate curve so that they appear straight from a distance. The three styles of columns were the simple Doric, which was used in the Parthenon; the Ionic, seen in the Erechtheum; and the later and more ornate Corinthian. Unlike the temples of older civilizations, which were enclosed and mysterious places, the Greek temple was open, with a colonnade porch and a single room for a statue of the god. Sacrifice and ritual took place outside the temple, where the altar was placed.
Other types of buildings, notably the theaters, stadiums, and gymnasiums, also express the Greek spirit and way of life. With the open-air theaters, the circular shape of the spectators' sections and the plan of the orchestra section set a style that has survived to this day. In his Life of Pericles, Plutarch explained why classical Greek architecture is still appealing to us, even in its ruined state:

"And this is the more cause to marvel at the buildings of Pericles, that they were made in so little time to last for so long . . . Such a bloom of newness is there upon them, keeping them, to the eye, untouched by time, as though the works had blended into them, an evergreen spirit and a soul of unfading youth."
Hellenic Sculpture and Pottery

Greek sculpture from before 480 B.C. is crude in its representation of human anatomy, but still has the freshness and vigor of youth. Two examples of archaic sculpture were shown at the beginning of this chapter. These statues of nude youths (kouros) and draped maidens (kore) usually stand stiffly with clenched fists and with one foot thrust awkwardly forward--an obvious imitation of Egyptian statues. The fixed smile and formalized treatment of hair and drapery also reveal the sculptors' struggle to master their art. What made the Greeks different at this point was their willingness to experiment with new techniques. By contrast, the Egyptians were so bound by tradition that when Plato visited there, he noted that "no painter or artist is allowed to innovate on the traditional forms or invent new ones."

The mastery of technique around 480 B.C. ushered in the classical period of Greek sculpture whose "classic" principles of harmony, proportion and realism have shaped the course of Western art. Sculpture from this period displays an idealization of the human form, always a favorite subject of Greek art afterwards. The most famous sculptor from this time was Phidias, who carved both the relief sculptures on the outside of the Parthenon and the colossal ivory and gold statue of Athena on the inside.



---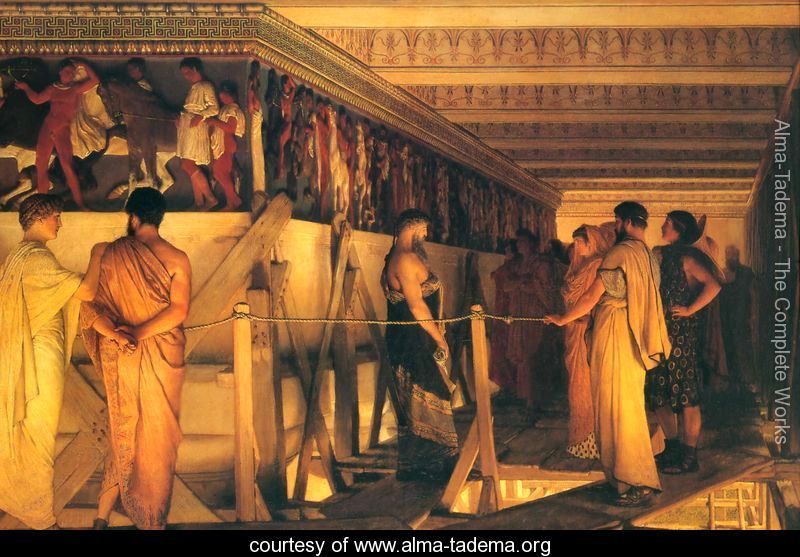 Today the relief sculptures on the Parthenon are plain white marble, but they were painted originally. Click here for a provocative theory on the myths represented by them. Here Phidias is visited by some friends on the scaffolding, before the Parthenon is finished. This is not a photo using modern re-enactors, but an 1868 painting by Sir Lawrence Alma-Tadema.


---

The more relaxed character of fourth-century B.C. Hellenic sculpture, while still considered classical, lacks some of the grandeur and dignity that mark fifth-century art. Charm, grace, and individuality characterizes the work of Praxiteles, the most famous sculptor of this century. We can see these qualities in his supple statues of the god Hermes holding the young Dionysus and of Aphrodite stepping into her bath.(33)

Pottery, the oldest Greek art, followed crude imitations of Mycenaean forms at the beginning of the Greek Dark Age. Soon abstract geometric designs, sometimes with stick figures, replaced the Mycenaean motifs. With the arrival of the archaic period came paintings of scenes from mythology and daily life. From surviving Greek pottery and mosaics, we can get an idea of what Greek painting, now lost, was like.(34)

Athenian Society

For all the praises people give to Athenian democracy, it never involved more than 25,000 people. In fact, it would not have worked if it had many more participants than that, or if the Athenians weren't so civic-minded. We call our government a democracy, when it is really a republic; we send representatives to county seats, state capitals and Washington, D.C., rather than take part directly. The democracy of Athens has more in common with a New England town meeting than with the cautious debates and careful procedures that preoccupy Capitol Hill. Recently, some have suggested that the technology of the Internet has made it possible to bring back full participatory democracy; this author feels that, for better or for worse, our country will change beyond recognition if anyone tries it.
Most of the inhabitants of Athens were not even recognized as citizens. Women, slaves, and resident aliens were denied citizenship, could not vote, and had no voice in the government. Legally, women were first the property of their fathers, then of their husbands; they could not, as the law expressly stated, "make a contract about anything worth more than a bushel of barley."
Athens was definitely a man's world. Greece had plenty of goddesses, and celebrated the female form nearly as often as the male form in art, but the real status of women was low. Aristotle even argued that women provided only an abode for a child developing before birth, as male seed alone contained the full germ of the child. A wife's function was to bear children, make clothes and manage the home; she had to stay in the women's quarters when her husband entertained his friends.(35) Men did not marry until they were about thirty, and they usually married girls half their age. Marriages were normally arranged by the families, and prospective brides and bridegrooms seldom met before their betrothal. Daughters could not inherit their parents' property, so if there were no sons, a daughter could be forced to marry the closest male relative, to keep the fortune in the family. Families were often small, and infanticide, usually by exposure, of unwanted infants (especially girls), was practiced as a primitive form of birth control.
Most Greek families didn't want daughters because they were a financial burden on the family, especially when they got married. Every woman needed a dowry in the form of money, cloth, and weaving equipment. Plutarch tells us that Elpinice, the daughter of Miltiades, was the most desirable woman in Athens, but she married quite late, because Miltiades owed the state a large fine at the time of his death. The family was rich in land but didn't have enough money for a dowry. Her brother Cimon ended up auctioning her off; he gave her to the richest man in Athens when he agreed to pay off the family debt, making him the only groom in Athenian history who provided the dowry.
Greek society sanctioned double standards where sex was concerned, and the philandering of a husband did not cause unfavorable public comment. The raping of a free woman, though a crime, was a lesser offense than seducing her, since seduction meant winning her affections away from her husband. A peculiar institution, catering to the needs and desires of upper-class Athenian males, was that of high-class prostitutes called "companions" (hetaerae). These females were normally resident aliens and therefore not subject to the social restrictions imposed on Athenian women. A few of the hetaerae, such as Aspasia, the mistress of Pericles, were cultivated women who entertained at salons frequented by Athenian celebrities. However, champions of the social emancipation of Athenian women were rare, and the women themselves accepted their status. Apart from a few cases in which wives murdered their husbands (usually by poison), married life seems to have been stable and peaceful. Athenian gravestones in particular attest to the love spouses felt for one another. The tie to their children was strong, and the community expected sons and daughters to honor their parents.
Male homosexuality is frequently pictured in Greek art and mentioned in literature. The most common form was "boy love," a homosexual relationship between a mature man and a boy who was about twelve years old. The man became the boy's role-model and counselor, and might even help him choose a wife when he grew up. They viewed this relationship as a rite of initiation into adult society, and like other initiation rites, it contained a strong element of humiliation. Sparta strongly encouraged this pedophilia; other Greeks indulged to a lesser extent, because Greek men thought women were not intelligent enough to carry on a stimulating conversation.(36) Homosexuality between adult males, however, was only socially acceptable in the Theban army, where they reasoned that lovers would fight to the death to defend each other; elsewhere it was often outlawed, because it was "contrary to nature."
No ancient society did without slaves. In fifth-century Athens we estimate that between one fourth and one third of the people were slaves.(37) Some were war captives, others were children of slaves, but most came from outside Greece through slave dealers. No large slave gangs worked on plantations, as they did in Roman times and in the American South before the Civil War. Small landowners owned just a few slaves, who worked in the fields alongside their masters. Those who owned many slaves--one rich Athenian owned a thousand--hired them out to private individuals or to the state, where they worked beside Athenian citizens and received the same wages.(38)
Other slaves were taught a trade and set up in business. They were allowed to keep one sixth of their wages, and many of them could purchase their freedom. Although a few voices argued that slavery was an unnatural institution and that all people were equal (Euripides, for instance), the Greek world as a whole agreed with Aristotle that some people--especially non-Greeks--were incapable of full human reason; thus they were by nature slaves who needed the guidance of a master.
Slavery also helps explain why Greece was never interested in developing machinery. Abundant slave labor probably discouraged concern for more efficient production of food or manufactured goods. So did a sense that the true goals of humankind were artistic and political ones. One Greek scholar, for example, refused to write a handbook on engineering because "the work of an engineer and everything that ministers to the needs of life is ignoble and vulgar." An even more graphic example comes from Hero, a resident of Alexandria in the second century B.C. Hero invented a working steam turbine, but he couldn't think of a practical use for it! To him it was just a toy, and he ended up using it as an automatic door-opener for a temple, fooling superstitious pilgrims into thinking that the gods opened and closed the doors.(39)
Because of this outlook, classical Mediterranean civilization produced fewer inventions than contemporary societies like India and China. Population growth, also, was less substantial; it topped out when the Romans took over, and population actually shrank during the late Roman Empire period. A host of features of Greek life, including even its democracy, thus hinged on the slave system and its requirements.

Athenian Imperialism

A partial unity of Hellenic arms had made the victory over Persia possible, but that unity ended when the helot rebellion compelled Sparta to recall its troops and resume its policy of isolation. Because the Persians still ruled the Ionian cities and another invasion of Greece seemed probable, Athens in 478 B.C. invited all city-states on the Aegean to form a new defensive alliance, called the Delian League because its headquarters was on the island of Delos. At the founding ceremony, delegates sailed out to sea and threw large iron weights overboard, signifying that they intended their alliance to last until the iron floated up again.
From the beginning, Athens dominated the League. To maintain the navy that would police the seas, each city-state had to make a yearly contribution of either ships or money. Most of the 173 member states found it easier to give money, but Athens always gave ships. Because of that, the League's navy was almost entirely Athenian, and Athenian garrisons became a common sight around the Aegean.
By 468 B.C., the Ionian cities had been liberated and the Persian fleet destroyed, preventing Xerxes from coming back for a rematch. In 465 Cimon won the League's greatest victory; he liberated the provinces of Lycia and Caria in southwest Asia Minor and enrolled them in the League. Because of these successes, some League members thought the alliance was no longer necessary. One member, Naxos, refused to contribute anything for the League in 468, and the Athenian navy attacked and looted that island. In 465 Thasos tried to drop out, and Athens again sent its ships; they took the island by storm and forced Thasos to tear down its walls, surrender its fleet, and become an Athenian vassal. These actions showed that the Athenians wouldn't let anyone quit the League, because of their fear of the Persians and because they needed to maintain and protect the large free-trade area so necessary for Greek (and especially Athenian) trade and industry. They also felt that any state which benefitted from the League ought to belong to it; when the city of Carystus, on the island of Euboea, refused to join, Athens attacked and forced it into the League.
Gradually, Athenian domination of the League became Athenian rulership over all the states in it. Soon members were ranked in three categories, which were, from top to bottom: Athens, other members who contributed ships (Chios, Lesbos and Samos), and everybody else. Minor members might be forced to donate soldiers as well as money, and Athenian officials might come to manage their affairs. Athens insisted on the right to try criminals accused of conspiracy or treason, since these crimes threatened the safety of the League, and eventually it extended its jurisdiction to all legal cases between League members. In 454, Pericles was concerned that the League treasury was not safe from thieves, so he moved it from Delos to Athens. Not long after that, the Athenian coinage and system of weights and measures was made the official one among all league members. Now Athens regarded the other League members as satellites, so the League quietly turned into an Athenian empire, with a population of two million. By suppressing local aristocratic factions within its subject states, and by clearing the Aegean of pirates, Athens both eased the task of controlling its empire and emerged as the leader of a union of democratic states.
To many Greeks, Athens was now a "tyrant city" and an "enslaver of Greek liberties." Pericles, on the other hand, justified Athenian imperialism on the ground that it brought "freedom" from fear and want to the Greek world:

"We secure our friends not by accepting favors but by doing them . . . We are alone among mankind in doing men benefits, not on calculations of self-interest, but in the fearless confidence of freedom. In a word I claim that our city as a whole is an education to Hellas."(40)

Athenian-Spartan Rivalry

Like the protagonist in one of Sophocles' plays, Athens expressed too much pride, and this led to her downfall. For a while after forming their empire, the Athenians felt they were unbeatable. Their ships made them master of the eastern Mediterranean, and Athenian merchants prospered everywhere, providing the resources to wage war on an extensive scale. In 459 Megara, a former ally of Sparta, asked to join the empire, and in the same year Athens dispatched soldiers to aid Inaros, an Egyptian who led a long rebellion against Persia. After a two-year war (458-456) the Athenians captured Aegina, an ally of Corinth, and dragooned it into the empire.
These activities alarmed Sparta and Corinth, who would have let Athens do its own thing had it been willing to let them do theirs. The result was the First Peloponnesian War. Sparta moved its army into Boeotia in 457, and won a victory at Tanagra, but in the same year the Athenians defeated the Thebans at Oenophyta; this brought all of Boeotia except Thebes under Athenian control. Both sides agreed to a five-year truce in 451, but when it ended, Boeotia revolted; this encouraged Euboea and Megara to revolt and tipped the balance in favor of Sparta and its allies. A Spartan king marched on Athens, but withdrew inexplicably before he encountered Pericles' forces (the king went into self-imposed exile afterwards). Then Athens recovered Euboea, but her land empire was now gone, so she signed a new truce in 445 and wisely abandoned the ambitions which had started the fight.
The truce allowed Athens to keep a sea empire and Sparta a land empire, and was supposed to last for thirty years. It only lasted for fourteen, though. Athens looked overseas, to the rich trade routes of Sicily and southern Italy, and her moves to take over this commerce antagonized the city that dominated this area, Corinth. In 433 Athens formed an alliance with Corcyra (modern Corfu), an island colonized by Corinth but now at odds with the mother city. Meanwhile Potidaea, a Corinthian settlement in northern Greece which had passed into the Athenian Empire, revolted, and Athens sent ships to put down the rebellion. Corinth objected to both these actions and warned Athens to stop. Feeling that war was inevitable, Pericles retaliated by putting a total embargo on trade with Megara, the nearest city-state not under Athenian control.

FOOTNOTES
1. Herodotus, The Histories, I, 30-32.
2. Thucydides, History of the Peloponnesian War, II, 41.
3. Nowadays a canal cuts through the isthmus, making the crossing easier.
4. From polis we get our word politics.
5. Greek warriors at this stage were literally bottomless. If Homer and the renditions of pre-classical artists can be trusted, the typical warrior already had the breastplate and helmet we are familiar with, greaves for his shins, and carried a figure-eight shield, but he wore nothing between his waist and knees!
6. McNeil, William H., A World History, New York, Oxford University Press, 1967, pg. 94.
7. Originally, the religious ceremonies conducted at the Olympics were more important than the games themselves. For the first Olympiad, the only game was a foot race from one hill to another. The rules were less rigid, too; one event, the Pankration, was a brutal combination of boxing and wrestling that resembled today's ultimate fighting. At the Olympic games of 564 B.C., one Pankration fighter, Arrichion of Phigalia, was desperate to get out of a chokehold, and broke his opponent's toe; the opponent nearly passed out from the pain and conceded defeat. The referee raised Arrichion's hand in triumph, but Arrichion did not stand up--because he was dead. The chokehold had killed him, and since it was too late to change the ruling of the fight, Arrichion became the only dead person to ever win an Olympic event.
8. Several oracular messages had to do with finding a good spot for a new city. Accordingly, in 706 B.C. Phalanthos checked with the Oracle of Delphi before leading a group of colonists from Sparta, and was told, "Don't stop until you feel rain from a clear sky." They went as far as southern Italy, but all the good locations were already taken. Finally, near the city of Tarentum (modern Taranto), Phalanthos collapsed in despair, and his wife, Aithra, put his head on her knees and started grooming his hair. Spartans wore their hair longer than other Greeks, so the grooming job, combined with their situation, got Aithra depressed very quickly. She started crying, and when Phalanthos felt her tears land on his face, he figured out the Oracle's message, for Aithra's name meant "clear sky." Deciding that this must be the place, he and the other Spartans sacked Tarentum and settled there. Tarentum's original inhabitants were an Italian tribe, mere barbarians from the Greek point of view, so taking their land worked just as well as building a new city from scratch.
9. During the dark age Ionian fashions also caught on in Athens. According to one story, this happened when some Athenian soldiers went off to war and only one survived. When he brought back the bad news, the hysterical widows pulled the pins from their gowns and pricked him to death. After this the men of Athens introduced longer, fancier gowns from Ionia, which were also pinless!
10. I'll bet Pytheas thoroughly enjoyed the British part of the expedition. If you went to present-day Britain and practiced the same fact-finding tour that Pytheas did, it would be called a pub crawl!
11. The Spartans may have been incorruptible at home, but away from Sparta they succumbed to the temptations of wealth quite easily. Non-Spartan Greeks coined the phrase "a Spartan abroad" to describe such a person, and made jokes about those who acted that way.
12. Solon divided Athenian citizens into four social classes, based on their income. At the bottom of the heap were the thetes (rowers), who grew less than 200 bushels of grain a year or earned the equivalent in wages; they usually did not own the land they worked on, and in wartime, they served as oarsmen in the navy. The next ones up were the zeugitae, meaning teamsters, because they could afford oxen; these folks produced 200-300 bushels, served in the infantry, and paid for their arms and armor. Those who produced or earned 300-500 bushels could afford a horse, and were thus called hippeis, meaning equestrians. The biggest earners of all were the pentakosiomedimnoi, or "500-bushel men."
However, in one way Athenian society was more equal than ours. You may have noticed that the poorest "500-bushel man" earned only two and a half times as much as the richest thete. In fact, the elite of Athens were not expected to flaunt their wealth; one considered himself "well off" if his only luxuries were a horse, a purple robe, and a few gold plates.
13. Hippias fled to the Persians, and came back with them in 490, hoping they would reinstate him in Athens. The battle of Marathon ended that dream in a hurry!
14. Yes, there is a connection between the battle of Marathon and today's marathon races. After his fruitless jog to and from Sparta (150 miles each way), Pheidippides went to take part in the battle. When it ended he ran back to Athens to report that they had won, and as soon as he entered the city, he said, "Victory is ours!" and dropped dead of exhaustion. The marathon race was invented in memory of him.
15. Every year the Athenians voted to ostracize (exile) the most odious among them, banishing him for ten years. He didn't have to do anything wrong; anyone could be ostracized if enough folks didn't want him around. The term comes from ostrakon (ostraka in plural), the potsherds on which citizens wrote the name of the person they wanted banished.
Anyway, Themistocles and Aristides tried to get each other ostracized for years. Plutarch tells us of a funny incident during one of these bouts of name-calling. Aristides was an "army man," while Themistocles argued for a strong navy, and the two agreed to let ostracism decide the issue. On election day, Aristides was walking through the streets when a stranger came up to him; the man didn't recognize Aristides, and told him that he couldn't read because he was a farmer; would he be so kind as to write the name of Aristides on a potsherd? "But why?" he asked. "Has Aristides ever injured you?" And the citizen answered, "No. No. Never have I set eyes on him. But oh! I am so bored by hearing him called Aristides the Just." Whereupon Aristides, still a democrat at heart, took the potsherd and signed it.
16. The battle of Thermopylae came at the same time as the Olympic games. Normally when Greeks fought Greeks, a truce would be in effect during the games, because athletic contests were seen as a way to worship the gods (see footnote #7). It also was time for the Carneia, the same festival that caused the Spartans to skip the battle of Marathon. Of course the Persians didn't care about Greek holidays, so some Spartans had to go to Thermopylae, but most of the army was kept at home, to avoid committing a double sacrilege. Even when fighting for their lives, the Greeks would not give up their sports!
Two Spartans sent to the battle survived because they were away at the time, sick with ophthalmia; both felt great shame because they did not die with their comrades. One had his helot guide him to the site of the battle, and struck blindly until he killed himself. The other was taken back to Sparta, where he got the nickname of Tresas, "the man who retreated." To clear his name, he performed feats of reckless courage, until he was killed at Plataea a year later.
As for Ephialtes, the Greek Equivalent of Benedict Arnold, he expected a reward from the Persians, but the Greek victory at the battle of Salamis meant he would not get it. Because Sparta put a price on Ephialtes' head, he fled to Thessaly after the war. Around 470 B.C. he was killed by Athenades of Trachis; unfortunately the only thing Herodotus told us about the murder was that it had nothing to do with the past treachery of Ephialtes. Still, the Spartans paid the bounty to Athenades anyway.
17. A. R. Burn, The Pelican History of Greece (Baltimore: Penguin Books, 1966), p. 186.
18. Herodotus, VIII, 87.
19. Ibid, IX, 82.
20. Ibid, VII, 9.
21. C. E. Robinson, Hellas: A Short History of Ancient Greece (Boston: Beacon Press, 1955), p. 68.
22. All the Spartans could do was protest when Themistocles rebuilt the walls of Athens, something they didn't want. In 470 Elis and Arcadia left the Peloponnesian League, and Elis established an Athenian-style democracy. They came back when the helot revolt threatened them all.
23. It took until 455, though, and the Athenians ended up finding a new home for the helots in the city-state of Aetolia.
24. Admirers called Pericles "the Olympian" because his wisdom and eloquence reminded them of the gods. However, an accident at birth left him with a pointed head, so opponents gave him names like "onion-head." That is why artists always portrayed him wearing a helmet.
25. Thucydides, II, 65.
26. Ibid, II, 37 and 40.
27. M. Cary and T. J. Haarhoff, Life and Thought in the Greek and Roman World, p.192.
28. A. R. Burn, The Pelican History of Greece, p. 272.
29. A. R. Burn, The Lyric Age of Greece (New York: St. Martin's Press, 1960), p. 166.
30. Ibid, p. 236.
31. Aeschylus, Agamemnon, from Ten Greek Plays, trans. Gilbert Murray and ed. Lane Cooper (New York: Oxford University Press, 1929), p. 96.
32. Medea, trans. Gilbert Murray, Ten Greek Plays, pgs. 320, 321.
33. His sculpture of Aphrodite was so attractive that Greeks claimed the goddess saw it and exclaimed, "Alas, when did Praxiteles see me naked?"
34. Like their modern-day counterparts, Greek artists often signed their works. One Athenian potter added a jab at a rival by writing on his pots, "As Euphronios never, ever could."
35. Socrates spent most of his time away from home, teaching in public places, because it got him away from his wife Xantippe's sharp tongue.
36. When Spartan soldiers came to town you didn't hide the women, you hid the boys!
For today's weddings we spare no expense to make the bride look like a princess; the Spartans, by contrast, humiliated their brides. After the wedding ceremony, a Spartan bride's hair was cut short, she was dressed in men's clothing, and she had to lie on a pallet in a darkened room, waiting for the groom to come to her. They didn't have romantic honeymoons, either. If the groom was on active duty, he would take the bride back to her parents the next day, and then return to the barracks. A few years ago it was suggested that the Spartans did all this to ease the groom's transition from a homosexual to a heterosexual lifestyle. Supposedly, because Spartan men had only been around other men for most of their lives, they knew less about women than a modern-day high school nerd does, and might not have even wanted female companionship, so they had to be coaxed into it by making the bride look like a boy!
37. Sparta had a higher percentage of slaves; helots outnumbered "Spartiates" (full citizens) by about 10 to 1 at this stage.
38. Even the Athenian police were slaves, because it was considered unseemly for free citizens to lay hands on each other. Among these slaves were 1,000 Scythian archers, and on days when they didn't have a quorum attending the civic meetings, the Scythians would lasso and bring in more citizens, using ropes dipped in red paint. To show up for jury duty or some other function wearing a "slave's stripe" was embarrassing, to say the least.
39. Hero also built the first vending machine, an urn that dispensed a cup of water when a coin was dropped in the slot on top of it; this went into the temple, too. It may be just as well that Hero's inventions didn't catch on; if they had, the industrial revolution might have begun 2,000 years earlier than it actually did, and a nuclear war might have destroyed the Roman Empire.
40. Thucydides, II, 40-41.

© Copyright 2001 Charles Kimball


PAGE NAVIGATOR
| | | |
| --- | --- | --- |
| A History of Europe | Other History Papers | Beyond History |