---
THE HOLY BOOK OF UNIVERSAL TRUTHS,
K. U. P.
(Kimball's Unauthorized Perversion)
---
The Call for Islamic Reform from Egypt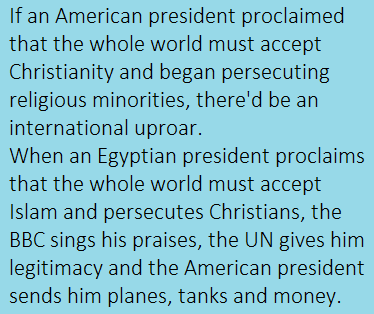 This is a follow-up to the essay I wrote in 2006, declaring it is time Islam had its own reformation. The above quote refers to Mohammed Morsi, the president of Egypt who came from the Moslem Brotherhood. At the beginning of 2015, Abdel Fattah el-Sisi, the Egyptian general who succeeded Morsi, made the same call. An online friend of mine collected these links to stories about that, in case you missed it.

http://www.americanthinker.com/.../egypt_al_sisi_calls...

http://www.foxnews.com/.../egypt-leader-el-sissi-calls.../

http://pjmedia.com/.../egypts-al-sisi-makes.../

http://www.washingtontimes.com/.../charles-ortel-will.../

http://freebeacon.com/.../egyptian-president-calls-for.../


El-Sisi is the first Egyptian president to visit a Coptic Church on Christmas.

http://www.thegatewaypundit.com/.../egyptian-president.../

http://www.americanthinker.com/.../egypts_sisi_first...


Egypt's government is going to allow the construction of new churches:

http://www.catholicculture.org/news/headlines/index.cfm...


The Moslem Brotherhood by contrast destroys churches, a practice that was ignored back in Mubarak's day -- but had nothing to do with his overthrow.

http://blogs.cbn.com/.../muslim-brothers-massive-church...


And unfortunately my own senator, Rand Paul, is on the wrong side of this issue:

http://foreignpolicy.com/.../rand-slams-congress-for.../




Support this site!


© Copyright 2021 Charles Kimball



---
---
Remember to check out the rest of the content on this site.
---