---
THE HOLY BOOK OF UNIVERSAL TRUTHS,
K. U. P.
(Kimball's Unauthorized Perversion)
---
Florida, From the Inside and Outside


Has Florida gotten stranger since I left? During the forty years that I lived in Orlando's suburbs (1966-2006), life there didn't seem unreal. To start with, my family didn't find anything odd about visiting a tourist attraction when we had an event worth celebrating. And even before the big three theme parks opened (Walt Disney World, Sea World and Universal Studios), there were plenty of interesting places to visit: the beaches, Silver Springs, Cypress Gardens, Busch Gardens, Cape Canaveral, Rainbow Springs, Weeki Wachee, Bok Tower, and so forth. For example, more than once my parents celebrated my birthday by taking us to the nearest alligator farm, Gatorland.

In 2006 the main building of Gatorland, the one where the door looks like a giant alligator's mouth, burned down; fortunately the alligators were all right because they stayed in the water. Has anyone reading this been to the place since it was rebuilt and reopened? Recently I listened to their information line (800-393-5297); the guy talking on it had a ridiculously exaggerated Southern accent, as if Gatorland expects only redneck visitors. The worst part is how I discovered the phone number; Gabriel Iglesias mentioned it in one of his comedy routines, meaning that a lot of out-of-state folks must know about it by now! I will take issue with Gabby calling Gatorland one of Florida's "alternative parks," though. Owen Godwin built Gatorland back in the 1940s, so it is a more authentic piece of Florida than the artificial "worlds" built for Mickey Mouse, Shamu, and Harry Potter.

Another quirk about central Florida, that I have not noticed anywhere else, is how used car dealers decorate their lots with the flags of Third World countries. Most of the time, the only rhyme or reason I saw for the flags is that they resented countries which were recently in the news. It makes sense when you see a German or Japanese flag over a dealership, because that represents a nation known for producing quality cars, but what about Bolivia, Kuwait, and Somalia? I've recognized their flags at dealerships, but I have never heard of automobiles from there. Once in the Goldenrod neighborhood, I saw a car lot surrounded by Filipino flags; I'm guessing that was the nationality of the owner. Another time, near the Florida Mall, I saw a dealership flying Khmer Rouge flags; if the Cambodians built cars when Pol Pot ran the country, that's news to me!

But the news stories which come from Florida have to be the biggest contributor, to what makes the Sunshine State look odd. Yes, I heard some offbeat stories while I was there, but not enough to make me think my home state was the weirdest. If you had asked me back then which state was the strangest, I would have answered California. But get a load of the news stories I have seen since moving away. In 2007 we had the love triangle story about Lisa Nowak, a veteran NASA astronaut, driving from Houston to Orlando to stalk (and possibly kill) a rival to a male astronaut she had her eye on. The strangest part of the story is that she wore an adult diaper to avoid making any restroom stops on the way. Who else would do that, when there are plenty of truck stops and rest areas along the interstate highways, and she would have to stop anyway to fill up her gas tank, right? In the same year came the sudden death of Anna Nicole Smith, in a Broward County hotel. Granted, that didnít happen in the Orlando area, but most outsiders donít realize that Dade, Broward and Palm Beach Counties have a different culture from the rest of the state, so they will tend to lump Broward and Orlando together. More recently there was the tale of Tiger Woods trying to escape from his wife in the Orlando suburb of Windermere, and he ended up hitting a tree and a fire hydrant with his van. No wonder News of the Weird is written by a guy in St. Petersburg, and Fark.com has a page just for Florida news stories. One thing's for sure, even if you never come to Florida, the state is going to entertain you!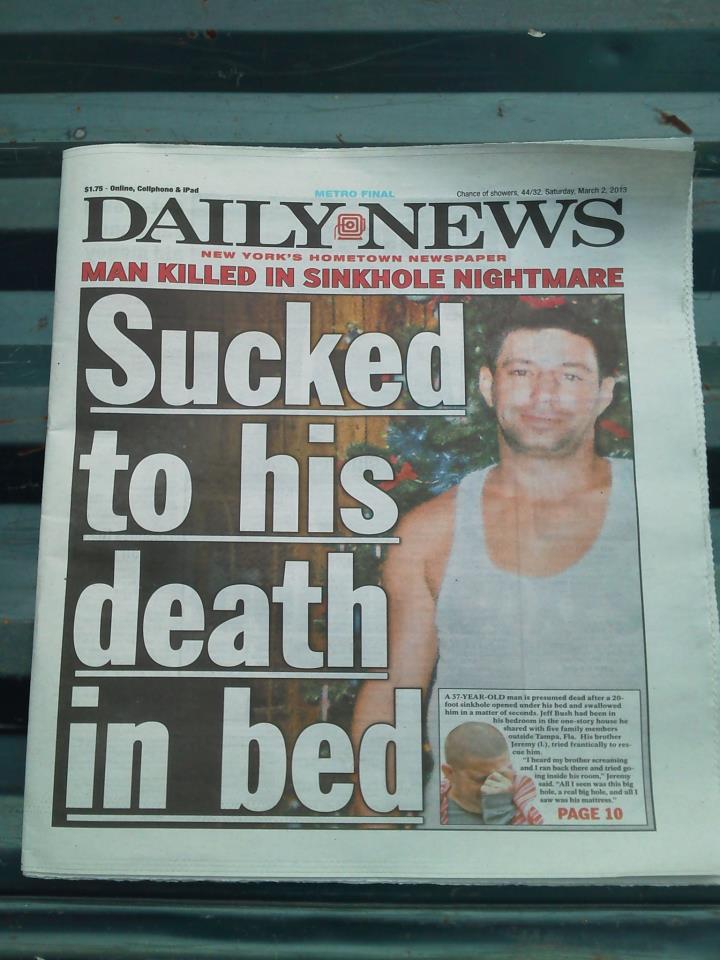 A few days after I composed the rough draft for this essay, a sinkhole opened under a Tampa man's bedroom, and he fell into it, never to be seen again.



And oh! The politicians Floridians elect to lead and represent them, these days! Traditionally Florida voters and politicians were quite conservative, but it seems that the electorate took a big step to the left when I stopped voting with them. It makes me wonder what is in the drinking water, besides limestone sediments. Here are the three worst offenders:
Charlie Crist. He sure seemed like a conservative Republican before he was elected governor, but stopped acting that way after he won. Heck, he left the Republican Party altogether, when he saw a chance to run for the Senate.
Debbie Wasserman-Schultz. Somehow Miami voters thought she was fit to be their representative in Congress, and Democrats in general thought she was fit to lead their party. Oh sure, she's Jewish, and south Florida has the USA's second largest Jewish community, but at the same time she is so hyperpartisan that she would defend Adolf Hitler if he was a Democrat. Is she really the best candidate for those jobs? If Bernard Goldberg ever updates his book on the people who are dividing America, I'm sure Ms. Wasserman-Schultz will be in it.
Alan Grayson. I never got an answer when I asked why the voters of Orlando replaced an incumbent Republican with this barking mad liberal in 2008. Evidently the voters realized they had the worst congressman in America, because they voted him out of office at the next opportunity (2010). Even stranger, they gave him another chance in 2012, albeit in a different district from the one he represented the first time. Electing him once can be explained as a mistake, but twice?
Finally I want to give special mention to Earl K. Wood, the Orange County tax collector. Not because of his ideology, but because he wouldn't go away. I remember him because every time a driver's license came up for renewal in my family, the notice arrived in an envelope with Earl K. Wood's name on it. He was tax collector for 44 years because it paid so well; during his last term, he collected an annual salary of $150,000 and a pension of $90,000. Therefore he continued to hold the job after he could no longer do the work; by 2012, he was 96 years old, wheelchair bound, and so ill that he only showed up in the office once a month. Wood died three weeks before that year's election, but the people of Orlando were so used to having him around that they voted for him every time without thinking about it, so they re-elected him once more. The county election supervisor knew he was dead, but didn't bother to remove his name from the ballot. It is one thing to keep the dead registered to vote (Florida does that, too!), but how many other states allow the dead to run and win?

I guess since Walt Disney World opened, outsiders have decided that Orlando, like Hollywood, is a place where it can be hard to tell fantasy from reality. Even if they are right, a lot of the folks seem to think Iím mad, for moving from Florida to Kentucky, when they would like to do the opposite. My best answer to them is that after being in the same community for forty years, you are ready for a change, even if itís a nice place.

Of course those who want to live in Florida often forget about the long, hot summers, the reptiles and the bugs. When I was there, The Orlando Sentinel ran a comic strip about one of our good old boys, called "That's Jake," by Jake Vest. My favorite cartoon had Jake hugging an alligator, with a big snake crawling in the grass nearby, and he shouts, "I just LOVE this humidity! I can't wait to mow the lawn!" Meanwhile in the background, his wife says, "Oh look, Honey, fire ants! I'm going to feed them!" At the bottom of the cartoon, the caption read, "After a week in Chicago in the winter, nothing about Florida seems bad."




Support this site!


© Copyright 2021 Charles Kimball



---
---
Remember to check out the rest of the content on this site.
---